Truman Bridge is a four-lane bridge connecting Downtown, Mayani and Sunshine Causeway that has a main purpose of connecting mainland Mayani and Mayani Beach. The Truman Bridge is the largest bridge in the Mayani area and has several thousand passings every day. The bridge was built in 1961 and is named after U.S president Harry S. Truman. The bridge replaced the older Phillips Bridge which was originally built in 1912 but widened in 1948.
Along with the smaller
North Bay Bridge
, it is one of the two bridges connecting Mayani Beach and Mayani.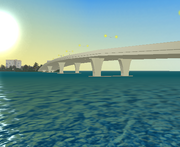 Ad blocker interference detected!
Wikia is a free-to-use site that makes money from advertising. We have a modified experience for viewers using ad blockers

Wikia is not accessible if you've made further modifications. Remove the custom ad blocker rule(s) and the page will load as expected.