The 
Sports Coupe 
is a two door sports car firstly introduced in 
Huntdown: Mayani
. The Sports Coupe can be colored and is one of the fastest vehicles in the game.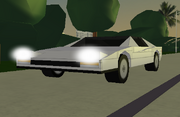 The Sports Coupe is based entirely on a 1984 Ferrari Testarossa featured with a beige interior design. The car also has front flip-lights that may be activated once the "L" hotkey is pressed.
Performance
Edit
The performance of the Sports Coupe are categorized from Bad, Average and Good. which also comes with a under-statement of above or below.
Top Speed: 80 RSU ( Roblox Speed Unit )
Road Grip: Good
Handling in high speed: Good
Handling in low speed: Average
Weight: Very light
Ad blocker interference detected!
Wikia is a free-to-use site that makes money from advertising. We have a modified experience for viewers using ad blockers

Wikia is not accessible if you've made further modifications. Remove the custom ad blocker rule(s) and the page will load as expected.