One Bayfront Plaza is a office skyscraper located on Bayfront Boulevard in Downtown, Mayani. The building is 22 stories tall and is one of the tallest buildings in Mayani. When the building was completed in 1974, it was the tallest building in Florida.
The building is owned 80% by
LegalTrust Bank
, that purchased most of the office space in the building in 1980. The remaining 20% is owned by Sunshine Air Conditioning.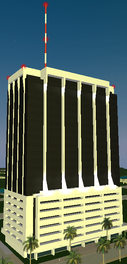 Ad blocker interference detected!
Wikia is a free-to-use site that makes money from advertising. We have a modified experience for viewers using ad blockers

Wikia is not accessible if you've made further modifications. Remove the custom ad blocker rule(s) and the page will load as expected.