Florida is a state located in the southeastern United States. Florida hosts the main setting for Huntdown: Mayani, taking place in Greater Mayani and sorrounding areas.
Within the playable area of Florida in Huntdown: Mayani, there is a true tropical climate, with humid summers and mild winters. Rain and thunderstorms happen frequently and the temperature rarely drops below 70 F.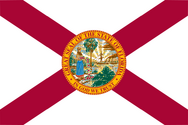 Counties featured
Edit
Ad blocker interference detected!
Wikia is a free-to-use site that makes money from advertising. We have a modified experience for viewers using ad blockers

Wikia is not accessible if you've made further modifications. Remove the custom ad blocker rule(s) and the page will load as expected.