The
current
list exists of features and items that are left before Alpha launch of
Huntdown: Mayani
.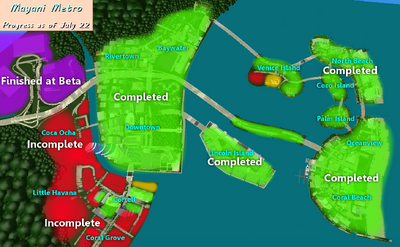 Structure-wise
Edit
Islands ( 95% )
Mainland, except for swamplands. ( 65% )
Scripts-wise
Edit
( Bold means finished )
Face Changing GUI
Windshield crushing by shooting feature.
Fixing of guns + Implementing system on minigun.
Car shop (In works)
Character Behavior ( Sit, Run ) (In works)
Suitcase
Reimplementation of weather system
Beta thoughts
Edit
Car bombs
Ability to set bounties
Working bank
Stunt jumps
Lock pick
RP Chat
Drug dealing
Creating boat controls
Chainsaw
Ad blocker interference detected!
Wikia is a free-to-use site that makes money from advertising. We have a modified experience for viewers using ad blockers

Wikia is not accessible if you've made further modifications. Remove the custom ad blocker rule(s) and the page will load as expected.